WHY YOU NEED YOUR OWN MESSAGING APP?
Defending your data in a system that isn't yours一 ex. on Google, Facebook, Skype, Slack, Telegram etc. 一 is simply beyond your control.
We give you complete control with self-hosting. Create a fully independent private communication messenger network and have it set up on your clouds or servers. Protect your core business interests. And control your Independent Network data transfer and data management
Add your company colors, branding and your logo to your white label messenger and publish on Google Play or the App Store. Your solution can be hosted on our cloud or on your premise or cloud.
Have an office SIP phone system?
Improve your phone mobility and get a secure mobile messenger.
BENEFITS
Save Money : Save on your phone bills. Make and receive calls through your business phone system, even when out of the office.
No Roaming Charges :Save even more. Call from abroad and still be directly connected to your system, avoiding roaming charges.
Secure Conversations :All your calls and messages are protected with end-to-end encryption.
Your Own Network :You will get your own messenger network, where you'll be able to control your users and activities and analyze statistics.
HD Voice Quality :You can make HD outgoing and incoming voice calls via your business SIP phone system.
Modern Messenger Features: Enjoy a full suite of modern messenger features like group chat, video calls, stickers, file sharing and more.
Send Push Notifications : Send message notifications to all your network members on their smartphones.
A Special Button For Your Calls : All your users will have a dedicated call button on their apps, with your company name. Use it to make network calls on messenger apps.
Create your Own Messenger & Unified Communications Solution
Build your own messenger with features like messaging, voice and video calling, digital wallet, file sharing, group chat and more.
                                         Get your idea to market fast with our business-ready solutions, fitted to your needs.
FIT YOUR APP TO YOUR BUSINESS
Globally, there are only a handful of excelling messengers, worth your while. What we give you is the exceptional opportunity to have a equivalent, if not an exceeding top messenger of your own. Customize your unified communications solution, add features and match it to your brand.
We'll make it look like the app was built by you, for you.
RKTPL offers business solutions powered with revolutionary streaming technology. Our highly scalable, robust platform features messaging app and softphone extended capabilities in a flexible messenger business model. Our customers are virtual and GSM Mobile Network Operators, Private companies, Large Scale Corporations, Startup Businesses, Governmental Organizations – anyone who is interested in having own Branded Messaging & Softphone Solution.Our private and secure messaging app works everywhere. Extremely low bandwidth consumption allows you to make high-quality video and audio calls, send messages, and work collaboratively from anywhere with anyone.
CREATE YOUR FREE NETWORK
FOR PERSONAL OR BUSINESS USE
While other messaging solutions only offer group-oriented features, RKTPL allows you to build your own network, which in itself includes groups, channels, admins and more.Our platform provides the world's lowest data consumption telecommunication solutions, which are on high demand especially in satellite networks.
Make your business communication private, mobile & cost-effective
MASTERY APPROACH TO SECURITY
RKTPL implements the latest and greatest security technologies to protect you from privacy risks.
 NO THIRD PARTY ACCESS.
All communication is secured with end-to-end encryption —eliminating "middleman" listening.
NO SERVERS. NO CLOUDS. NO BIG DATA.
We have refused to collect big data and we don't keep any user data on any servers.
NO PERSONAL INFO LEAKS.
Your private communication, personal info and history is encrypted locally and stored only on your device.
NO FEAR.
Your data and conversations only belong to you, and are seen by you and your intended recipient.
TECHNOLOGIES
Technologies provide revolutionary results in real-time communication.
 UNINTERRUPTED CALLS
Always stay connected. Have clean, HD quality audio and video calls.
INTERNET SPEED DOESN'T MATTER
Never worry about crowded Wifi or slow internet & adapts to your internet.
LOW DATA USAGE
Save money. Consume 6X less data than you would with other messengers.
FASTEST MESSAGING
Send instant messages, photos, videos and any files.
Build your Internal Communications Network with RKTPL
Create your own network on RKTPL's platform and take full control over your users, privacy, and data.

WHO IS A NETWORK FOR?
RKTPL's Private Messenger Network is designed for all types of teams – from small communities, companies, organizations to government departments and NGOs –for all those who want to build a public network and for those who want to be completely private or incognito.
NETWORKS VS GROUPS
While almost all messaging apps offer group-oriented features, with RKTPL you can build your own network which in itself already includes groups and so much more.
SECURELY COMMUNICATE WITHIN YOUR NETWORK
Use a private, reliable and fast modern messenger with advanced features for secure voice and video calls, file transfer, messaging and more.
FREE NETWORK SOLUTION FOR BUSINESS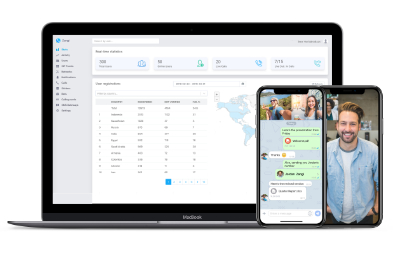 Unlimited Users
Management Panel
Statistics
Full Control of Users
Push Notifications
End-to-End Encryption
Low Data Usage
Modern Messenger Features
PRICING FOR FREE NETWORK + SIP TRUNK
Everything in Free Network PLUS
SIP Trunk
Free HD Voice Transcoder
up to 50  users    

$5

/user/month
up to 150 users  

$4.4

/user/month
150-500 users  

$4.3

/user/month
500-2000 users 

$4.0  

/user/month
More than 2000 users 

Negotiable
If billed annually and payed upfront, a 5 % discount will be applied on all prices.
Get  complete call control platform for your business communication needs
A flexible call control system that scales with your business needs as you grow. Best suited for today's modern business environment with all must have enhanced features :conferencing, call forwarding and unified communications. Improve your employee productivity and accessibility by  providing all collaboration tools available within one platform – Voice, video, IM, presence, mobility.
Integrated voice, video and IM with mobility
Scalable from 100-500,000 users.
Fully distributed architecture
Can be deployed with or without dedicated media gateway hardware in a centralized or distributed fashion as a single logical system
Provides voice communications, unified messaging, auto-attendant, digital / analog trunking, and support for analog devices, such as fax machines – all in a single package
Offers greater scalability in terms of user and trunk capacity, and also offers hard drive and power redundancy.
Open and flexible infrastructure
Value-added applications and services for advanced UCC
Flexible licensing
Enhanced intrusion security and support for secure communications
Strong native redundancy options
IP-PBX portfolio include:
Also we offer Army ruggedised field exchanges. These exchanges are ruggedised as per the JSS 55555 standards complying to MIL STD 461 D / E.
For Further Information
Please Contact Us for more information.
Follow Us