A LITTLE GENIUS GOES A LONG WAY.
Get real-time Artificial Intelligence (AI) performance where you need it most with the high-performance, low-power NVIDIA Jetson TX2. Processing of complex data can now be done on-board edge devices. This means you can count on fast, accurate inference in everything from robots and drones to enterprise collaboration devices and intelligent cameras. Bringing AI to the edge unlocks huge potential for devices in network-constrained environments.
JETSON TX2 MODULE
This is an AI supercomputer on a module, powered by NVIDIA Pascal™ architecture. Best of all, it packs this performance into a small, power-efficient form factor that's ideal for intelligent edge devices like robots, drones, smart cameras, and portable medical devices. It supports all the features of the Jetson TX1 module while enabling bigger, more complex deep neural networks.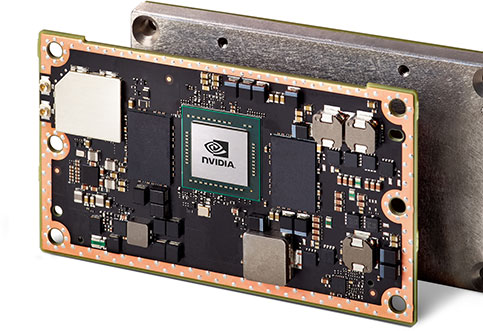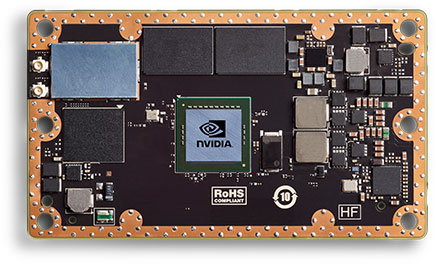 JETSON TX1 MODULE
This AI supercomputer features NVIDIA Maxwell™ architecture, 256 NVIDIA CUDA® cores, 64-bit CPUs, and a power-efficient design. Plus, it includes the latest technology for deep learning, computer vision, GPU computing, and graphics—making it ideal for embedded AI computing.
MODULE TECHNICAL SPECIFICATIONS
Jetson TX2
Jetson TX1
GPU
NVIDIA Pascal™, 256 CUDA cores
NVIDIA Maxwell ™, 256 CUDA cores
CPU
HMP Dual Denver 2/2 MB L2 +
Quad ARM® A57/2 MB L2
Quad ARM® A57/2 MB L2
Video
4K x 2K 60 Hz Encode (HEVC)
4K x 2K 60 Hz Decode (12-Bit Support)
4K x 2K 30 Hz Encode (HEVC)
4K x 2K 60 Hz Decode (10-Bit Support)
Memory
8 GB 128 bit LPDDR4
58.3 GB/s
4 GB 64 bit LPDDR4
25.6 GB/s
Display
2x DSI, 2x DP 1.2 / HDMI 2.0 / eDP 1.4
2x DSI, 1x eDP 1.4 / DP 1.2 / HDMI
CSI
Up to 6 Cameras (2 Lane)
CSI2 D-PHY 1.2 (2.5 Gbps/Lane)
Up to 6 Cameras (2 Lane)
CSI2 D-PHY 1.1 (1.5 Gbps/Lane)
PCIE
Gen 2 | 1×4 + 1×1 OR 2×1 + 1×2
Gen 2 | 1×4 + 1×1
Data Storage
32 GB eMMC, SDIO, SATA
16 GB eMMC, SDIO, SATA
Other
CAN, UART, SPI, I2C, I2S, GPIOs
UART, SPI, I2C, I2S, GPIOs
USB
USB 3.0 + USB 2.0
Connectivity
1 Gigabit Ethernet, 802.11ac WLAN, Bluetooth
Mechanical
50 mm x 87 mm (400-Pin Compatible Board-to-Board Connector)
JETSON DEVELOPER KITS
JETSON TX2 DEVELOPER KIT
This kit highlights the hardware capabilities and interfaces of the Jetson TX2 board, comes with design guides and documentation, and is pre-flashed with a Linux development environment. It also supports the NVIDIA Jetpack SDK, which includes the BSP, libraries for deep learning, computer vision, GPU computing, multimedia processing, and more.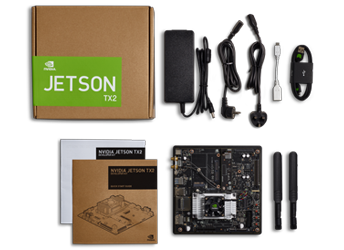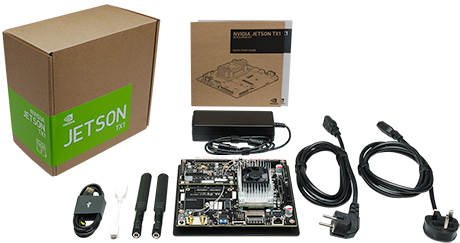 JETSON TX1 DEVELOPER KIT
This kit is a full-featured development platform for AI computing designed to get you up and running fast. It comes pre-flashed with a Linux environment, includes support for many common APIs, and is supported by NVIDIA's complete development tool chain.
DEVELOPER KITS KEY FEATURES
Jetson TX2 and Jetson TX1 Developer Kits
USB 3.0 Type A
Full-Size SD
USB 2.0 Micro AB (Supports Recovery and Host Mode)
SATA Data and Power
HDMI
GPIOs, I2C, I2S, SPI*
M.2 Key E
TTL UART with Flow Control
PCI-E x4
Display Expansion Header*
Gigabit Ethernet
Camera Expansion Header*
* I/O expansion headers: refer to product documentation for header specification.
DIY Artificial Intelligence Robot
PRODUCT INFO
Creoqode Nova is an all-inclusive DIY kit allowing users to build their own artificial intelligence robot and to practice their coding and engineering skills by controlling it in various ways. Nova is a great kit to learn about coding, electronics and many other engineering concepts including computer vision, image processing, kinematics and control theory.Nova can recognise and track faces, identify colours, measure distances and move accordingly in 5 different axis', or it can simply be controlled with the joysticks in the kit. Additionally, many sensors and gadgets can be connected to customise Nova and to add new functionalities, such as voice recognition, target shooting or even mobility. The only limit is your imagination.
Nova is compatible with Windows, Mac OS and Linux, and it can be programmed with the Arduino Software (IDE) and Processing (IDE). Users will easily adapt to the artificial intelligence robot regardless of their level of experience. Both new learners and experienced programmers will start controlling Nova by coding in just a couple of hours. Tutorials and booklets are provided through Qode Share to make users' experience smoother and more fun.
WHAT'S IN THE BOX
– Creoqode Mini Mega Development Board
– Creoqode Servo Motors
– Nova Servo Shield
– Nova Joystick
– Nova Acrylic Body Parts
– Nova Mask
– HD Camera
– Ultrasonic Sound Sensor
– Jumper Wires
– Screws, Nuts & Spacers
– Power Adapter & USB Data Cable
– Assembly Booklet
3D PRINTERS
3D printing or additive manufacturing is a process of making three dimensional solid objects from a digital file. The creation of a 3D printed object is achieved using additive processes. In an additive process an object is created by laying down successive layers of material until the entire object is created. Each of these layers can be seen as a thinly sliced horizontal cross-section of the eventual object.
3D printers capable of outputting in different colour and multiple materials already exist With effects on energy use, waste reduction, customization, product availability, medicine, art, construction and sciences, 3D printing is changing the manufacturing world as we know it.
If you're interested in 3D printing technologies, services, training courses and workshops. contact us.
We have following options of 3D printers:
3D SYSTEMS CUBEPRO DUO
3D SYSTEMS CUBEPRO TRIO
3DP WORKBENCH
BIGREP ONE
BIGREP STUDIO
DELTAWASP 3MT
DISCOV3RY PASTE PRINTING SYSTEM
DISCOV3RY PASTE PRINTING SYSTEM + ULTIMAKER 2+ BUNDLE
FLASHFORGE CREATOR – DUAL EXTRUDER
FLASHFORGE CREATOR – PRO DUAL EXTRUSION
FLASHFORGE DREAMER DUAL EXTRUSION
FLASHFORGE FINDER
FORMLABS 3D SLA PRINTER
LEAPFROG BOLT
LEAPFROG CREATR
LEAPFROG CREATR HS
LEAPFROG CREATR XL
LEAPFROG XCEL
LED CURING BOX SOLUTION
LED CURING TRAY SOLUTION
MAKERBOT REPLICATOR 5TH GENERATION
MAKERBOT REPLICATOR MINI
MAKERBOT REPLICATOR Z18
MARKFORGED MARKTWO
MARKFORGED METAL X
MARKFORGED X3
OMNI3D
PHOTOCENTRIC3D LIQUID CRYSTAL 10
PHOTOCENTRIC3D LIQUID CRYSTAL HR
PHOTOCENTRIC3D LIQUID CRYSTAL PRO
3DOODLER
WORLD'S FIRST 3D PRINTING PEN REINVENTED – THE 3DOODLER
When we first launched 3Doodler we asked the world to imagine a pen that you could literally lift off the page to create real three dimensional objects; a pen that put the power of a 3D printer in the palm of your hand.
Two years later, we've made the world's best 3D printing pen even better, with a new version that's slimmer, lighter, quieter and even easier to use.
How does it work?
Compact and easy to use, the 3Doodler extrudes heated plastic that cools almost instantly into a solid, stable structure; and with no computers or software needed, the possibilities are limited only by your imagination. Simply plug your 3Doodler into a power socket and start drawing anything within minutes.
If you can scribble, trace or wave a finger in the air you can use a 3Doodler. Let your imagination run wild. Doodle your self a colourful world!!
3D PRINTING FILAMENTS
Filaments are the raw materials for the Fused Deposition Machines (FDM's) 3d printing. Filaments can be of many materials.
Choose from a wide range of 3D printer filament colours and type.
PLA is a corn based polymer and hence 100% environment friendly. ABS is characterized by high strength. However, both offer many colours to choose from. Both types of filaments come in 3mm and 1.75mm diameter. Your choice of diameter will depend upon the type of extruder you are using in 3d printer.
Common Low cost Materials:
ABS (Acrylonitrile Butadiene Styrene)
PLA (Poly Lactic Acid)
LayWood – Wood Composite Filament
Metal Composite
Conductive Filament
Carbon Fiber Composite
Nylon
HIPS – High Impact Polystyrene
Soft PLA
Flexible Filament
Neon & Glow in the Dark Filament
Limestone
LayBrick …. and much more
We also provide 3d printing service in High End Materials available in multiple colours :
| | |
| --- | --- |
| Materials | Description |
| Polyamide (PA) | A strong and flexible material with a high level of detail |
| Alumide (AL) | A polyamide-like material with a distinctive look |
| Multicolor (MC) | A full color plaster |
| High detail resin (RE) | Lovely fine details on this photopolymer |
| Paintable resin (RE) | Beautiful when painted. Water resistant. If it has to be flawless |
| Transparent resin (RE) | See through |
| Titanium (TI) | Light and the strongest 3D printing material in the world |
| Stainless steel (ST) | Not your grandmother's stainless steel |
| Silver (AG) | Sterling silver |
| Gold (AU) | Choice of 14 and 18 carat solid gold |
| Prime Gray (PG) | Very smooth, detailed and "luxurious" to the touch |
| Brass (BS) | Copper and Zinc, united as one |
| Bronze (BZ) | What did you expect after gold and silver? |
| Ceramics (CE) | A food safe material that shines like no other |
| High detailed stainless steel (HS) | High grade stainless steel with a superb level of detail |
| Rubber-like (RL) | A strong, high-flexible and durable material |
| Paper (CHO) | Light weight |
| Silicone (SI) | Translucent and flexible |
3D PRINTING TRAINING COURSES & WORKSHOPS
Courses & Workshops available for :
Novabean's e-Studio is a hub for creative minds to make their own models, participate in workshops and 
certified Illinois university courses
, featuring from basics to advanced techniques of 3D Printing and new technologies, suitable for all ages.
Students, Professionals, Architects, Managers, Doctors, Engineers, Designers, Hobbyists, Teachers, Learners and anyone who want to learn and enhance their CV and professional skills and find potential business opportunity in new industry.
BASIC PLUS : Introduction to basic 3D Printing and assignments using self-printed prototypes. It's more hands-on experience than Basic package and uses a variety of problem solving assignments. Plus will able to design and print prototypes, analysing them on the spot and making adjustments.
ADVANCE: Introduction to Advanced 3D Printing Technology using CNC and LASER. Program is designed using FDM technology with PLA or ABS Plastics and SLA / DLP with resins. Candidates learn both technologies – CNC+LASER and 3D Printing. CNC+LASER is taught on MDF Wood.
ULTIMATE: Candidates & Teacher learn all about 3D Additive Manufacturing, SLA, DLP, CNC + Laser, Casting, Plating, Mould Making and Water Transfer & Printing Technologies, Silver Chroming Technologies, Photogrammetry & 3D Printing techniques. note: School teachers can take Ultimate course which will enable them to teach 3d printing in their school.